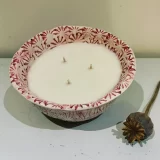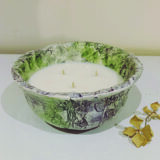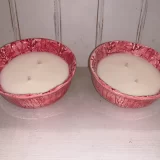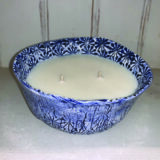 Candle Bowls Hand Formed
Description
Hand built out of earthenware clay and imprinted with various natural stamps including hydrangea petals, poppy pods, leaf matter, lace and other items. Glazed in either gloss or satin glaze.
Bowls filled with soy wax and available in a variety of scents including: Lotus Flower, Lemon Myrtle, Fig and Cassis, Ginger and Sandalwood and others.
Perfect to use as a cereal bowl after your candle has burnt down or can be re-filled for a small cost.
Finished shape varies but approximate size measures 145 x 70mm.
Small: $35
Medium: $60
As all pieces are created individually and require specific pricing. Please place a quote request for Nicole to confirm final pricing and shipping costs for your unique item request.